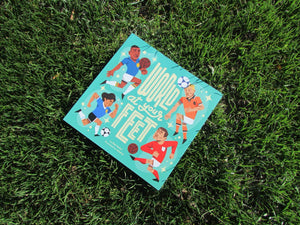 Are you currently looking for Christmas gifts for boys? It can be tricky coming up with Christmas gift ideas for boys, who are notoriously harder to buy for than girls. If you're on the hunt for a present for a boy who is into his football, may we suggest a copy of World At Your Feet as a potential stocking filler. World At Your Feet is our children's football book, which features 16 memorable goals. Each goal is brought to life by entertaining, rhyming commentary and stunning illustrations. Here are a few things that mark out World At Your Feet...
---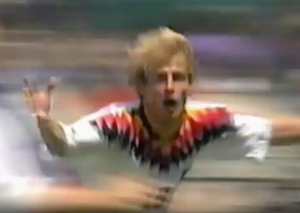 You'll see some familiar faces on the pages of World At Your Feet, but we deliberately didn't put names to the characters in the book. There were a couple of reasons for this. Firstly, we didn't want to get completely bogged down in detail and we particularly didn't want young readers to. We wanted imaginations to be able to run wherever they were taken without being pinned down to the 'who?' and 'where?' of a goal. There are already plenty of children's football books that deal with the facts and figures of the beautiful game, and we wanted World At...
---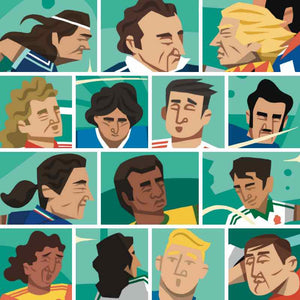 Trends and fashions come and go in football as they do in every aspect of society. World At Your Feet illustrator Lawerta has captured many of these trends in the book. You'll see close attention to detail paid to changing styles of shirts, boots, balls and, of course, hair. The book features goals from 1958 to 2014. There were some dramatic changes in the hairdos of choice during that period of time, and you'll see those reflected on our pages. Roberto Baggio's divine ponytail, the mullets of the late-1980s and early-1990s and the alice bands of the mid-2000s are among the styles...
---
When I was writing World At Your Feet I was aware that it could be useful in helping introduce children - and particularly boys - who don't normally read to books.
---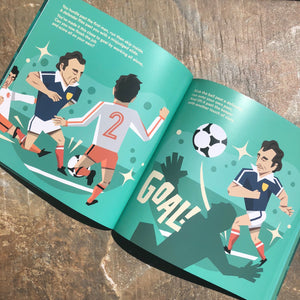 Are you looking for cool books for kids to read? In this article we will collate some of our favourite. How do we define cool books? We're looking for books in which the narrative or story is strong and the design or illustration lives up to those levels. Ideally, the writing and aesthetics will be such that they can appreciated by parents and adult readers as much as by kids. So, without further ado, here are some of our favourite cool books for kids to read. Happy Birthday Madame Chapeau by Andrea Beaty Written by Andrea Beaty and with illustrations...