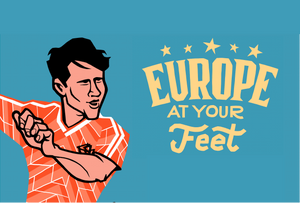 We're delighted to announce that Europe At Your Feet, the follow-up to World At Your Feet, is on its way. Initial artwork is being unveiled at Bologna Children's Book Fair this morning. As you can see from that artwork, Netherlands legend Marco van Basten is among those whose goals feature in Europe At Your Feet. You can also expect goals from Paul Gascoigne and Ronnie Whelan as we celebrate some of the greatest strikes ever scored at European summer tournaments. Europe At Your Feet is expected to be published in time for Christmas 2019 (and equally importantly summer 2020). World At...
---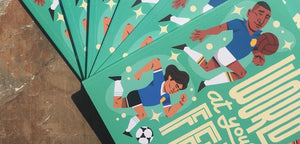 Are you looking for football books for World Book Day 2019? If so, look no further than our very own World At Your Feet. World Book Day is on Thursday, March 7, 2019. And whether you're a parent on the hunt for a book that will get your football mad child involved in the celebrations or a teacher who wants a book to engage the footie fanatics in your class, World At Your Feet fits the bill. What is World At Your Feet? World At Your Feet is a picture book celebrating 16 of the most memorable goals ever scored....
---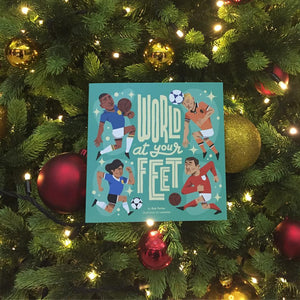 If you would like to give someone a copy of World At Your Feet for Christmas, you're cutting it fine. Royal Mail's recommended last posting date for 1st class Christmas delivery has now passed, so you will need to select our Next Day option at checkout for pre-Christmas delivery to the UK. The price for this is £4.02 (increasing to £8.60 for postage tomorrow, Saturday, 21 December, when Royal Mail says Special Delivery will be required for guaranteed Christmas delivery. But I really hate paying for delivery That's okay: use the discount code XMAS for 25% off your World At...
---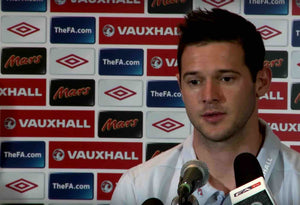 England international Matt Jarvis suggests you check out World At Your Feet for your Christmas shopping. The Norwich City winger has got a copy of the book wrapped up ready to give to his young son on Christmas Day. He posted on Twitter to encourage you to consider getting a copy of your own. Thank you @WorldAYF for my son's personalised copy of the book ready for Xmas! Check them out! https://t.co/7tshzL5KgW pic.twitter.com/BhwuERxN0T — Matt Jarvis (@MrMattJarvis) November 22, 2018 If you would like to follow in the footsteps of the ex-West Ham United and Wolverhampton Wanderers star and give...
---

Starting to get a bit twitchy about your Christmas shopping? Don't worry, we've got a great deal to help you tick a few presents off your list quickly, easily and cost-effectively. It's all about our new 3-4-2 formation... We're offering a 3 for 2 deal on World At Your Feet until 11.30am on Saturday, December 22, which is the cut-off for Christmas delivery (the cut-off for free delivery is 3pm on Tuesday, December 18. More information). Just add three copies of World At Your Feet to your cart and you'll automatically be charged for just two of them when you...