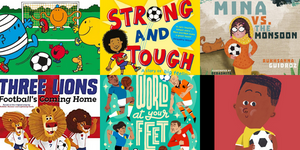 Ready to indoctrinate your little one in the ways of the beautiful game and expand their mind at the same time? Look no further than this collection of football books for 6 year olds.
To help you find books that young readers will love, we've compiled a list of football picture books for 6-year-olds. There's something for everyone, including exciting illustrations, engaging stories, real football history, and silly adventures.
---
If you've got a little one who wants to do nothing other than play football or watch football perhaps you can coax them towards a third option: reading about it. With that in mind, we've gathered a selection of the best football books for 9 year olds to keep young fans entertained between matches. 
Choose from exciting chapter books, real football stories, and advice on how to become a better player in this range of children's football books.
---
Reading is so important to an 8-year-old's development. When football's the only thing that matters, it makes sense to read about football.
With that in mind, we've gathered a selection of football books for 8 year olds to enjoy. Choose from football-playing dogs, big game changers, real stories from players, and football history to find the perfect football-themed reading for the little footy fan in your life.
---
The perfect way to get a football fan excited about reading is to find books about what they love: football! With that in mind, we've selected an assortment of football books for 7 year olds. 
Whether you're looking for something for an avid or reluctant reader, these books are great for football fans who want as much football in their lives as possible. 
---
Diego Maradona balanced incredible talent on the pitch with his demons away from the pitch for many years. Despite the challenges in his personal life, he still managed to become one of the greatest players of all time.
Little wonder then that the crazy story of his life has been the subject of so many books and is such a compelling read.
Here is a selection of the best books about Diego Maradona, the amazing moments of his career and the crazy stories surrounding them.